Fit Guide
Our denim is unique. We take time to develop our fits by gathering data from people in our community to build a collection of shape-inclusive denim we call "Ratio-Fit" You use the difference between your waist and hip measurements (or your "ratio") to define the best fits for your body type. A lot of bodies can float between styles, so read on and we'll help guide you through the process.
01. Shapes
We have thoughtfully designed a collection that is made up of 3 primary shapes. The Alex, Bonnie and Pamela are outstanding in their own category, and we're very proud to offer a range of denim that is shape inclusive without the use of elastane. Spring 2021 marks the launch of our complete size range, which is extended up to 4X. After hosting hundreds of fit sessions over the past 2 years     I can confidently say that after the launch of our extended sizing we truly will have something for just about every body type.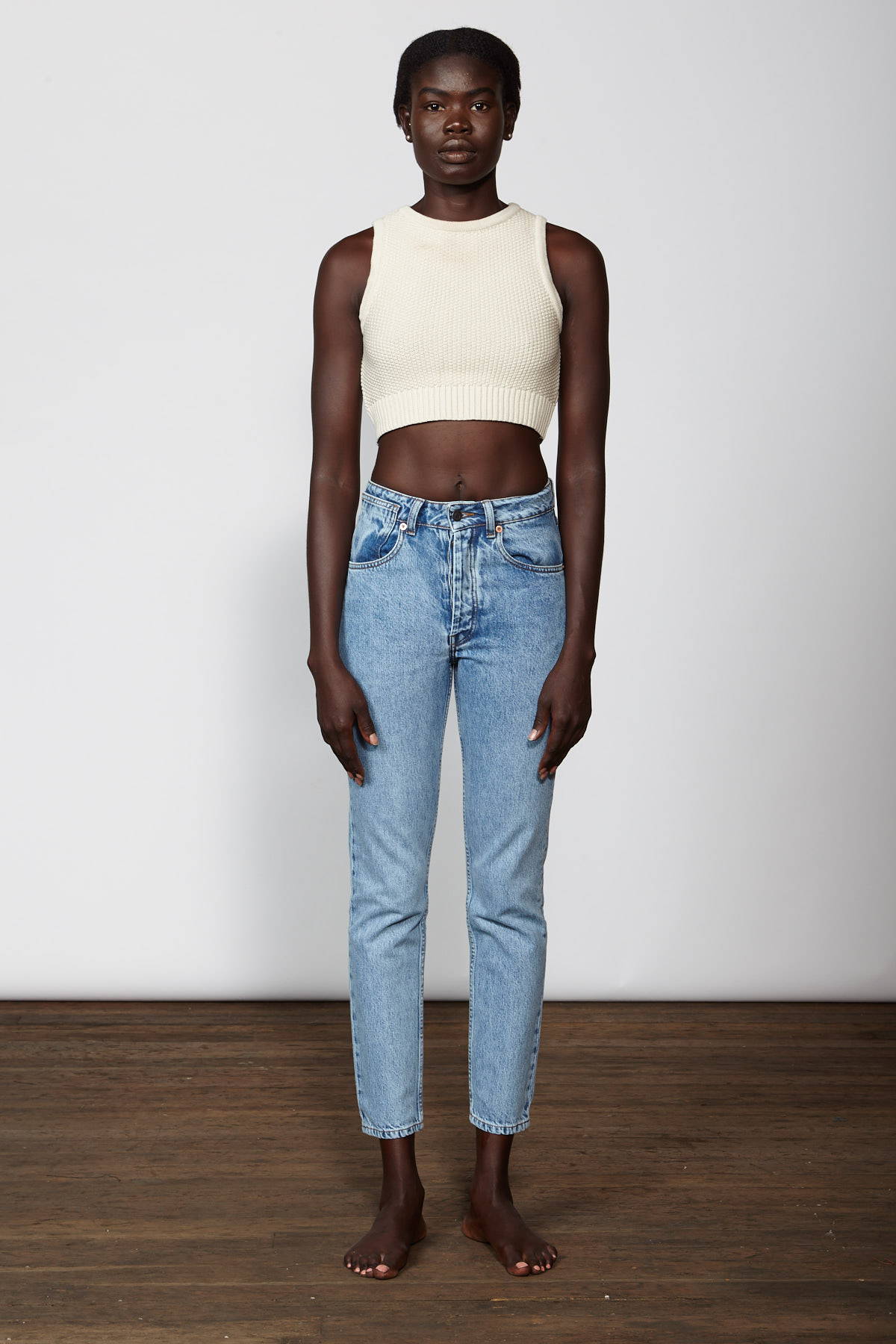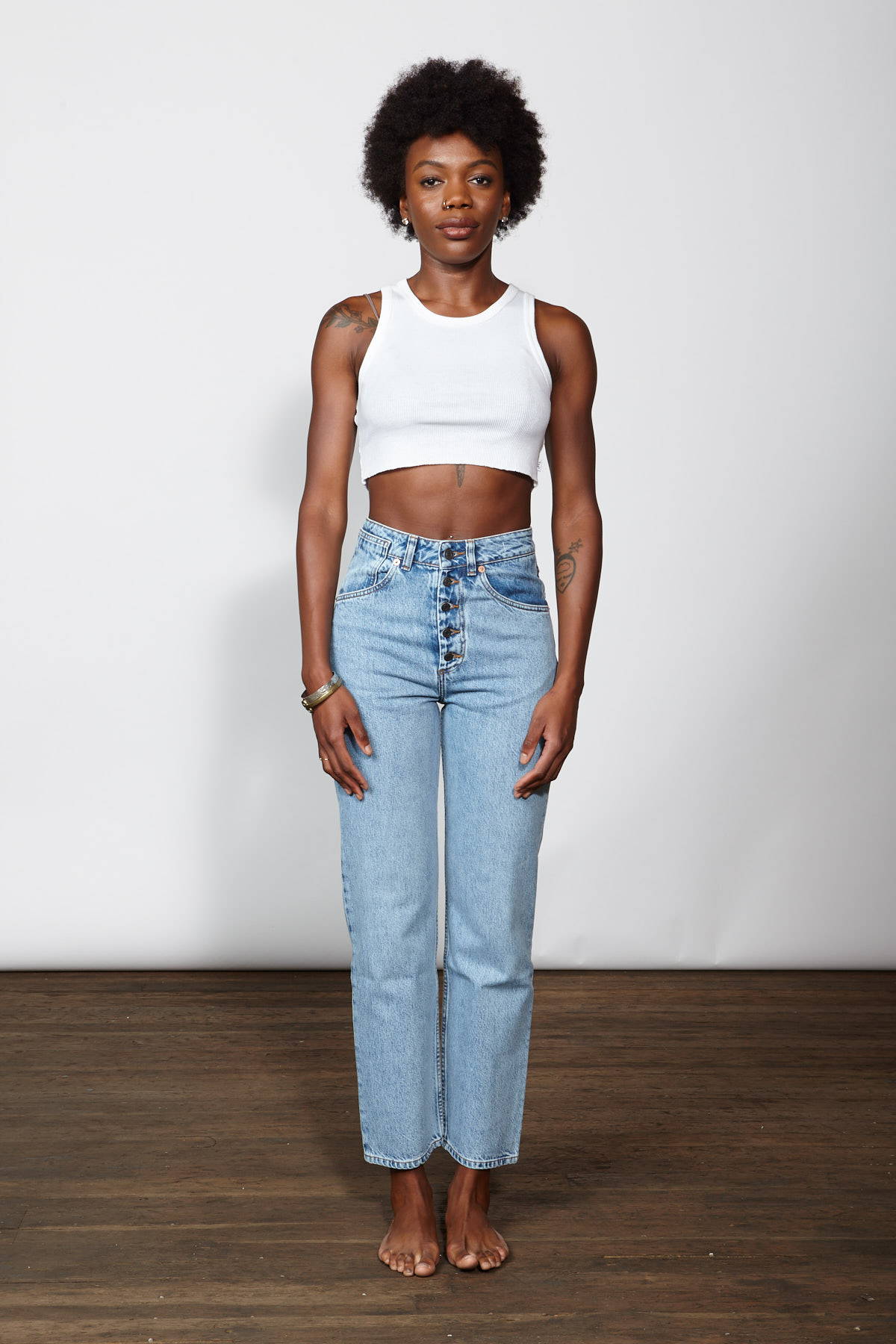 Pamela
Super-curve silhouette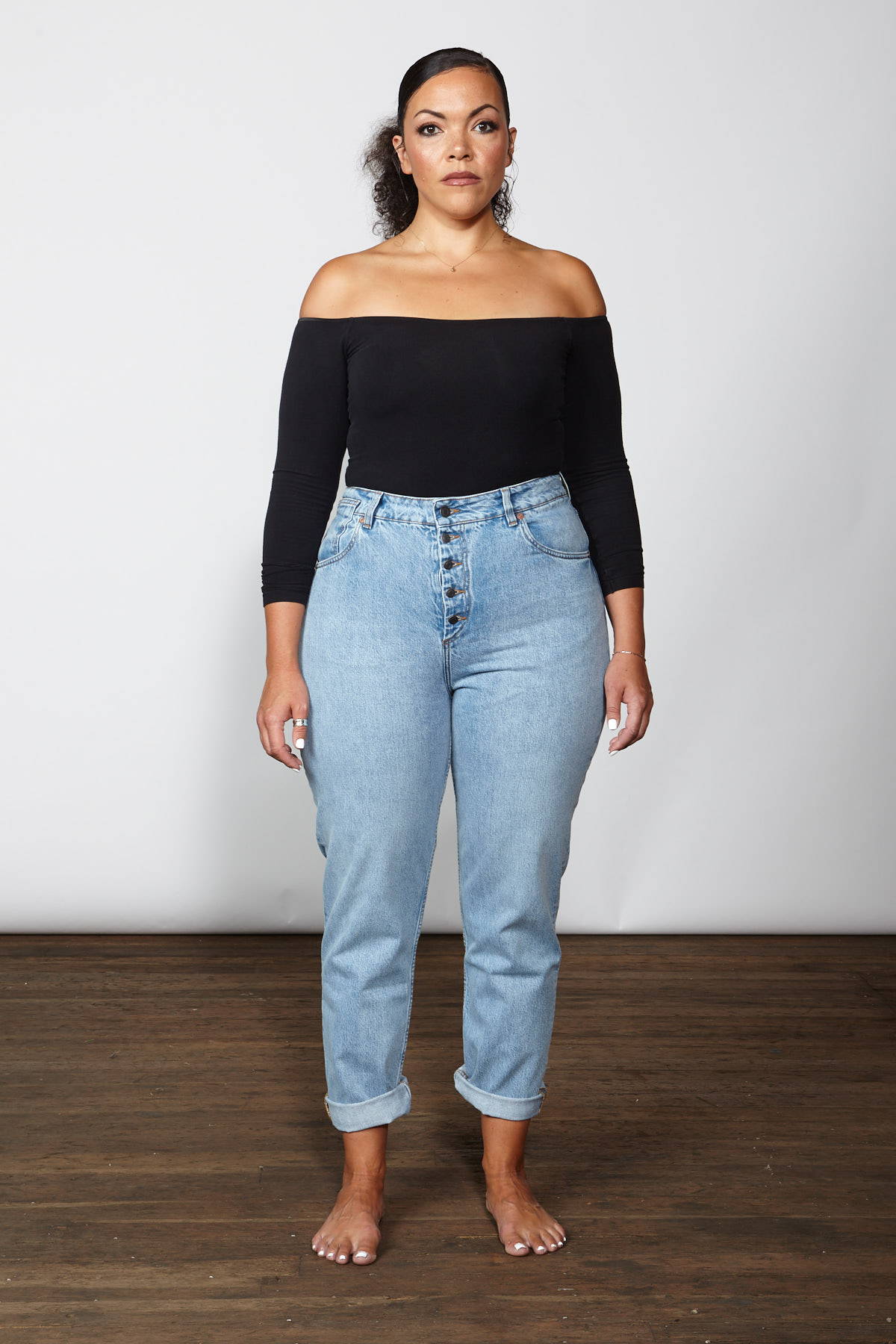 02. Fit Notes
Our jeans are meant to be a personal experience for whoever is wearing them. We do not add additional whiskering or fading to our 100% cotton Italian denim, because we want your body to make the mark itself. The jeans will fit very tight at first and eventually become a beautiful reflection of your daily routine. The feeling on the first try is often described as a "compression fit" and will relax quite quickly, eventually becoming an every day go-to after about a week of wear.
Alex - A relaxed, unisex fit. The perfect tapered leg and mid-high rise make these jeans a favourite in the collection due to the versatility. These should feel snug or comfortable on the first try, and will relax perfectly. These are best suited for those who describe themselves as having "no butt".
Bonnie - Our best seller, and signature fit. The vintage inspired straight leg is very well loved by our customers and the ratio between waist and hip suits a body type that is totally underrepresented in the industry, especially in the non-stretch category. The super-high rise sits at the smallest part of your waist making these the most flattering jeans you'll ever wear. These should fit VERY tight at first and will relax beautifully with time, without ever getting baggy or saggy. These are designed for the customer who consistently experiences gapping at the waist of their jeans.
Pamela - A revolutionary fit. The Pamela jeans have brought customers to tears in my fitting room. There is nothing like this on the market and fit a body type that is often overlooked. These customers have never worn non-stretch denim, and we're extremely proud to offer this highly articulated pattern in our range. These jeans should fit VERY tight at first, and will relax quickly. The Pamela can also fit a straighter silhouette with room around the tush and hips, creating a beautiful relaxed vibe, although these are specifically designed for very juicy bootys and trust me when I say the customer will be coming back for every wash.
03. Denim Care
Our jeans are made of 100% cotton, which means the care instructions are very straight forward. We recommend washing when necessary in cold water, inside out and hanging to dry. We say "when necessary" because the evolution of the denim is a beautiful process and washing can sort of re-set everything. I usually spot-wash my jeans if needed and wash them in the machine about once a month. There is a little confusion around raw denim, and 100% cotton denim and this leads to washing confusion - but we do not sell our denim in a raw state. All of our denim has been processed at our wash facility to allow an easier break-in period and regular wash instructions.
Our denim is totally repairable and we encourage our customers to bring in any repairs to their local tailor or denim specialist. Our jeans are also totally recyclable, and you can learn more about denim recycling by visiting the Blue Jeans Go Green info page.