Returns
While we happily accept returns on unworn items, we HIGHLY recommend following our fit guide to help you avoid the returns process altogether! In the meantime, the fine print is below:
We accept returns on items that are unworn, unwashed, and with their original tags attached. We offer refunds for full-priced items while discounted items are eligible for exchange or store credit only. The customer is responsible for the cost of shipping their return; Decade does not provide return labels. Please contact us within 14 days of ship date to obtain an RA number and return instructions. Please note that we cannot process returns or exchanges without an RA number.
We will process your refund, exchange, or store credit once we've confirmed your return tracking. Please upload your return tracking via the link in your return confirmation email. If you need some help deciding if your jeans are too tight, too loose, or which direction to head in next, please visit our very handy fit guide or give us a shout at hello@decadestudio.com.
We offer complimentary shipping to Canada and the continental U.S on orders over $150. Orders ship within 1-2 business days and tracking is automatically emailed to the customer. Shipping charges do not include any applicable duties or taxes and customers are responsible for any additional costs relating to import. US-bound deliveries valued under $800 (USD) are generally exempt from duties and taxes as per the De Minimis threshold.
All orders placed online have an option to track using the Arrive App. Please check your inbox or spam folder for shipping notifications.
Sale items are final sale. Decade accepts returns or exchanges on full-priced orders. Please contact us within 14 days of ship date to obtain an RA number and return instructions. Items must be unworn, unwashed, and have all original tags and packaging. Please note that we cannot process returns or exchanges without an RA number.
Our denim is unique. We take time to develop our fits by gathering data from people in our community to build a collection of shape-inclusive denim we call "Ratio-Fit" You use the difference between your waist and hip measurements (or your "ratio") to define the best fits for your body type. A lot of bodies can float between styles, so read on and we'll help guide you through the process.
01. Measuring
Measuring your body can be tough! We have some guidelines here to make it a little easier on you, and to make sure that you're finding your perfect fit. Our goal is to close the gap at the waist, while fitting your hips and tush perfectly! When you find your waist and hip measurements, take note. You'll need them later.
a) Waist. This is the smallest part of your waist. This is where your body creases when you lean to one side. Hold the tape fairly snug.
b) Hip. Your hips are the widest part of your tush. This is horizontally in line with the bottom of your crotch. The measuring tape should be held perfectly horizontal, and fairly snug, but not tight.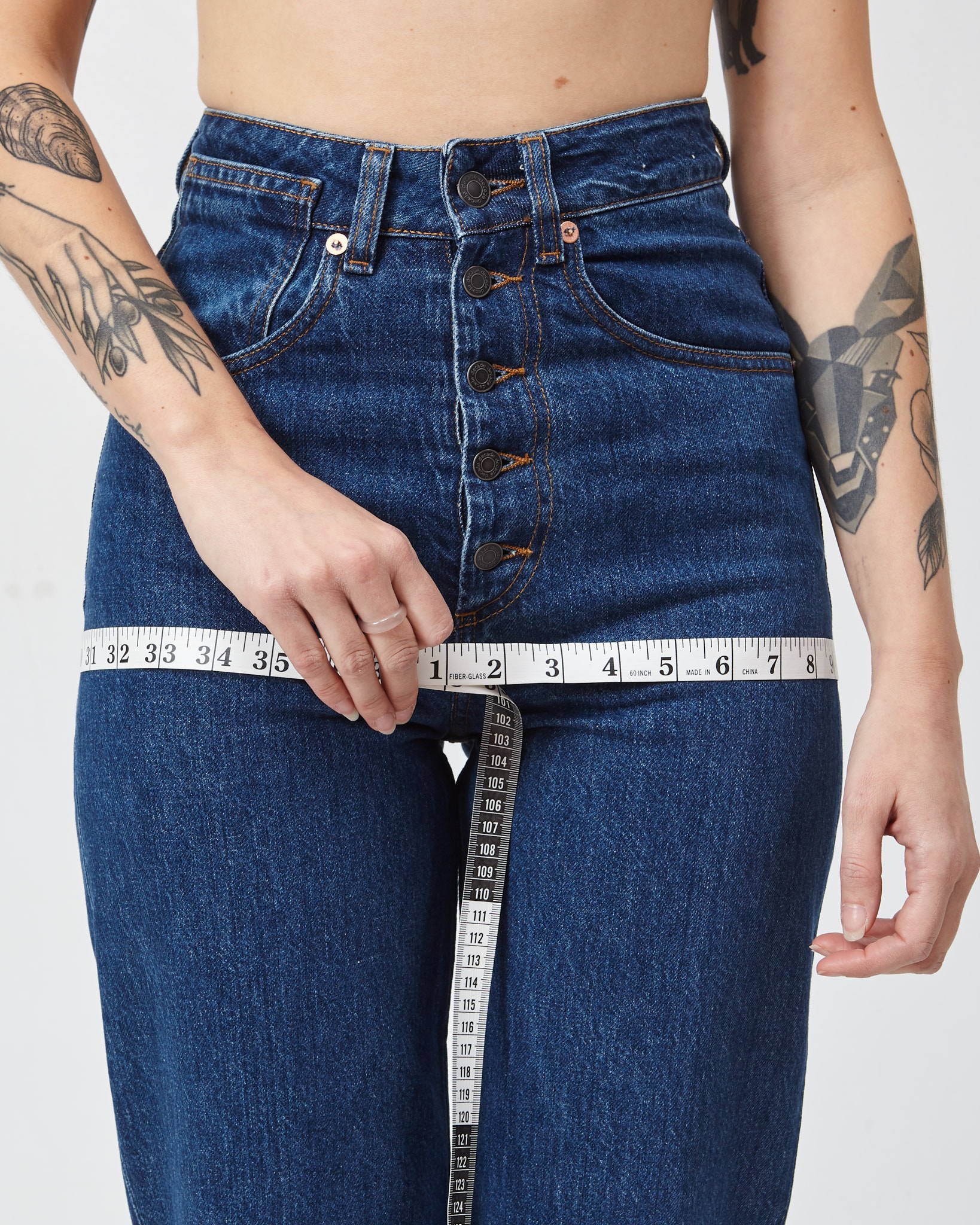 c) Now that you have your accurate measurements - let's find your fit! Browse our different fits in our denim guide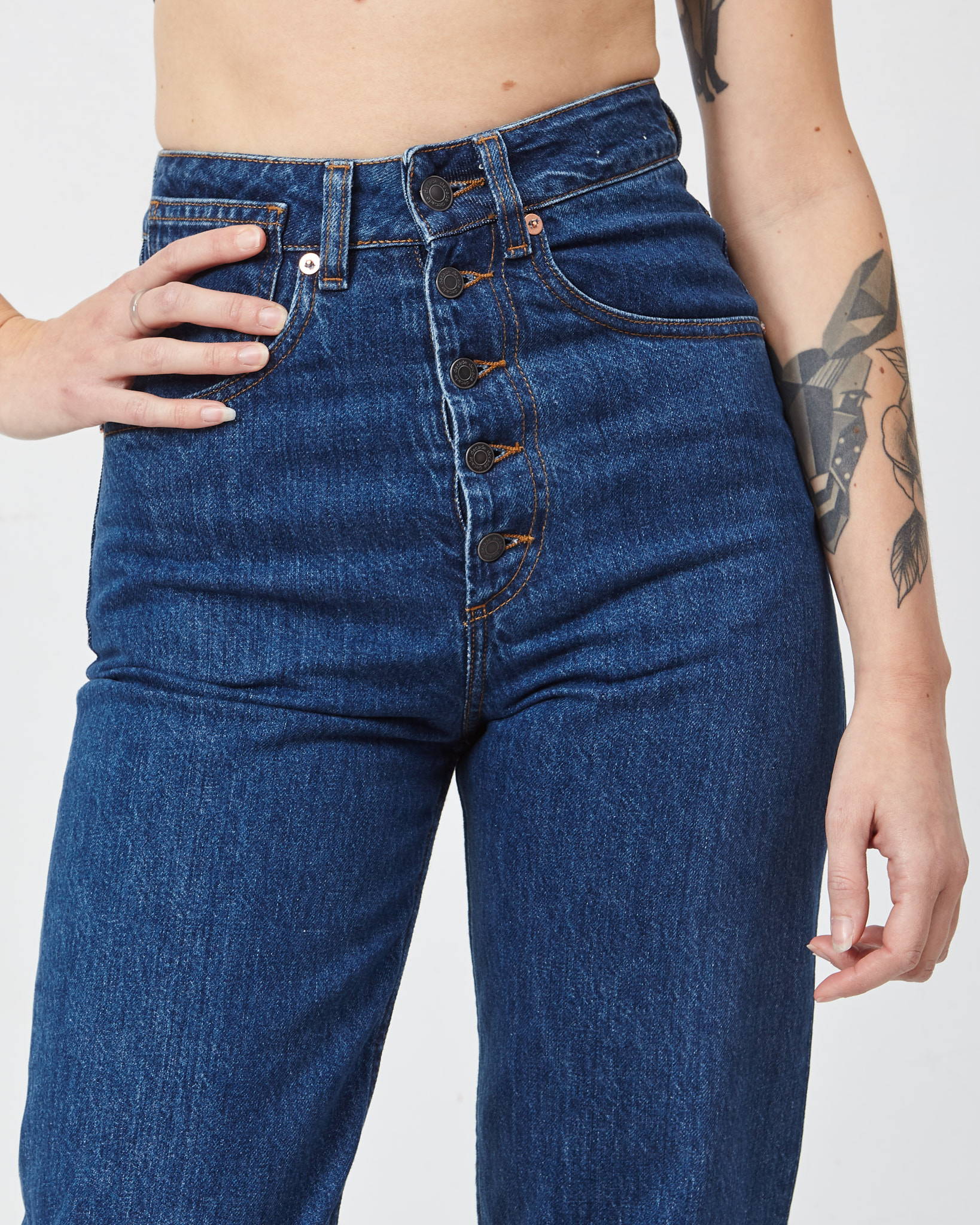 02. Break-in period
Some of our jeans are designed to fit very snug on the first try. It's common to have a little difficulty getting the buttons done up, and to struggle getting them on the first time. This is a good sign only if your desired fit is quite snug! If they feel like they fit perfectly they will be perfectly relaxed and comfortable after a few wears. Our premium denim relaxes where it needs to, and will never get baggy or saggy. Your body will push out the denim where it needs to, and eventually they will become the most perfectly fitting jeans you've ever owned. Please allow 7-12 wears for the denim to reach it's fit potential, if you choose to wear a snug fit! On the first try, we encourage you to try on some different tops and style the jeans the way you normally would to allow the denim to warm up to your body. You'll start to notice a change in about 15 minutes. If you're not sure, or concerned about the fit being far too tight (or too loose!) reach out via email hello@decadestudio.com
01. Wash 
Our jeans are machine washable. We recommend washing only when necessary, as water and agitation help break down fibres more quickly than they need to be. Always wash inside out in cold water, and hang to dry.
02. Repair 
We use 100% cotton denim for several reasons. One of those reasons is that it is totally repairable. Have you ever tried to repair a crotch hole on a pair of stretchy jeans, only to have them tear again immediately? We have too. This is why: When you introduce elastane into a cotton yarn it compromises the strength of the yarn. Cotton is very strong naturally and elastane is weak. It snaps very quickly leaving a saggy and less strong cotton fibre. When you stitch a repair onto a pair of jeans that use elastane (even 1%) the elastane snaps at the repair line and tears away. When you repair 100% cotton denim it is a long-lasting repair because the cotton fibre will actually be reinforced.
03. Recycle
It's a little known fact that 100% cotton denim is recyclable! The scraps from our production house are donated to a facility nearby that breaks them down to the fibre and repurposes the cotton as insulation for homes and cars. You can also donate your cotton jeans to a facility in Arizona that does the same thing. Read more about them here.
What is Ratio-Fit?
We use the difference between your waist and hip measurements to define the best fit, rather than using the industry-standard fit model, because we don't all have model proportions! Our objective is to close the gap at the waist, while making room for curves. A lot of people are forced to size up when buying jeans to accomodate their hips or booty, but we've developed patterns that fit a variety of body types.
What size or style should I buy?
If you feel like you have never found jeans that fit your waist and hips at the same time, it's very likely that you are the Pamela or Bonnie. If you have ever described yourself as "having no butt" it's likely that you are the Alex fit. To drill down a little further, we have a few tools to help you out! All of our product pages have links to individual fit guides tailored to each style. We also have stories saved on our Instagram that provide fit notes, and a very helpful measuring guide. Our "Community Photos" linked on each product page can also help if you identify with any of the models body types. If you still have questions, we're always open to virtual fit sessions! Book yours using the link in the header, or hit us up on live-chat!
Are my jeans too big?
If you are trying on your jeans for the first time and you feel like they might be too big, they likely are. These jeans are meant to fit quite tight on the first try because our 100% cotton denim relaxes with wear, and will eventually become perfect.. Luckily, we offer easy and quick exchanges for the correct size, but please send us a quick message if you have questions about the fit of your jeans!
Why don't you use stretch?
Denim is meant to be woven using 100% cotton. Stretchy denim (even 1% elastane) was invented to make one pattern go further. Big companies cut corners to maximize revenue and don't want to spend too much time or money on development. When you inject cotton with elastane it gives a straight-cut pattern the ability to stretch over different curves, but it doesn't last. The elastane in the fibre snaps with minimal wear and whats left is a saggy, loose and weakened cotton fibre. This is why stretchy jeans sag and bag out so quickly! Our 100% cotton jeans do not do this. They relax perfectly to become the perfect fit with a bit of wear, and most importantly THEY LAST. The denim we use is super durable and also totally repairable (blow-outs do happen, after all) 100% cotton denim is also recyclable! You cannot recycle stretchy jeans, and the repairs don't last, because the elastane snaps away from the new stitch line. Cotton denim evolves beautifully, as well. We intentionally leave out any sandblasting or whiskering, to allow your body to make it's mark. They will become a beautiful reflection of your daily routine.
How and when does my order ship?
We ship items that are in-stock next business day. We use Canada Post for domestic orders and USPS or DHL for international orders. We do ship internationally :)
Can I order custom jeans?
We do not accept custom orders. Our development process takes years, and we make our jeans on a medium-large scale using a family run production team in Portugal. Unfortunately, at this time, if you would like a customized item you will have to commit to 100 units.
Do you offer extended sizing?
We extend our sizing little-by-little based on demand. We are committed to offering shape inclusive denim in an inclusive size range, but we are a very small company and we are forced to scale slowly. Thank you for your continued patience and please send me a message if you are interested in something that we don't currently offer! We love gathering new data!
I just got my jeans and they're too small, what do I do?
Don't panic! Often the correct size feels way too small on the first try. Give them about 20 minutes, try on some shoes, do some lunges, eat a snack, and you'll start to feel them relaxing already! It takes about 4-6 wears for the denim to fully relax, and then they'll be your go-to for daily wear!
I'm glad you asked! Ratio-Fit is a concept our designer Molly created. After a lifetime of poorly fitting jeans, she decided to take matters into her own hands. Using the proportions and measurements from groups of people from the community, Molly builds sets of data and develops patterns using the data from hundreds of different body types and weight distributions to develop her patterns, instead of the industry-standard fit model because we don't all have model proportions!
We offer several different fits based on the collected data, ALL made using premium Italian 13oz 100% cotton denim! The best fit for you is based on the difference between your waist and hip measurements, or your "ratio". Our highly contoured patterns are meant to fit like a puzzle piece. When you get your perfect shape and size there will be no gapping at the waist and the perfect amount of room for your butt! Your weight distribution is also a great way to identify the best fit for your body type. Check out our Denim Guide for more information on the different styles we offer.
If you have any questions, we'd love to chat! Please send us a message at hello@decadestudio.com.